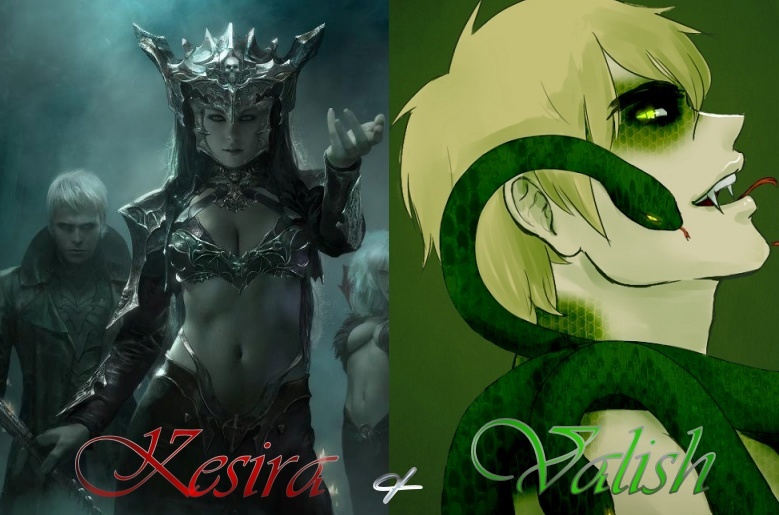 ~*oOo*~
The wind roared howled louder than ever before, thunder rumbling the earth below and lightning striking down with such vengeance it could chill the heart of man. It wasn't an ordinary storm, no, far from it. The Sorcerer known of Luhmen Sekihm was having one of his 'tantrums' which normally affected the weather. "I asked you for your opinion not to show up and run the whole blasted thing!" roared the Frenchman. Eyes of pure silver moved from side to side as they followed cloaked man as paced back and forth, with her arms crossed over her chest. A rather unamused look spread across her facial feature "Oh Luhmen, Darling" the words rolled off her tongue that would make any man weak in the knees "You asked for my assistance" she stepped near the hooded sorcerer "and I did as you asked" her tone taking on a more sultry vibe. Reaching out with a clawed hand she grasped his chin "Now I expect my payment" a claw sliced through the air and pointed toward the caged 'experiment "Him" the man's eyes averted from the deadly beauty to slave "He's not up for grabs, sorry, Kesira but I'm not finished with him yet" hearing this the sultry woman slowly raised her right brow "Oh? .. did I just hear you deny me what I want?" her voice testy now, perhaps a bit of agitation which was definitely felt by the sorcerer as claws began to dig into his jaw. "Now now .. Kesira, my dear, I want him at the utmo--" before the man was even able to finish his statement, a clawed hand pierced his chest and took a firm hold of his heart "Sorry, Luhmen my Darling" she cooed "But you know I am not a patient woman" with that she yanked the man's heart from his chest and within. Running her tongue along the still beating heart she took one bite then two and before long had devoured the entire thing. A groan of relief escaped her lips as she wriggled in the new energy her body had just received "Mmm now that was delightful" slowly pure silver hues opened as she turned her gaze toward the cage and neared it. Yes she had blood upon her hand and upon her which had dribbled down her chin to her chest, kneeling down she looked to the 'creature' within it "Hello there, my sweet" a smirk formed upon her lips "would you like to come with me?" she whispered while reached a bloodied hand into the cage toward him "would you like to be my new pet?" she slowly rang her tongue along her crimson covered fangs as a smirk slowly formed upon her lips, looking to the male through devilish eyes.
For years the man beast was locked up for, and the sorcerer known as Luhmen had been trying to find a way to reverse the mutation, but he had since given up on it, and wanted to advance on it. Before he was this thing he was a young orphan, he had wandered too far from his nearest village and stumbled upon the sorcerer who had taken interest in him. Not anything of the sort, but he felt that using the young man would help push his theories along. Valish was his name, and he was the perfect candidate since he had no family, and nobody would really miss him being gone from the village. Luhmen used alchemy and made him into a chimera, so now he was half snake and half man, but it seemed he would have been perfect if he had looked more human. Yet he looked to be human, but he had green scales, his eyes were a piercing yellow green, and he had fangs that could paralyze anyone with one bite, but what was he now? There was another person in the room, and he could hear the sorcerer speak to the other, and it seemed they were negotiating. Valish sat in the dark side of his cage not really in the mood to move, but it interested him when he could see the woman point towards him, and then his master denied her. It really sucked being in this cage, and he'd do anything to see what outside was like, and on the bright side of being a chimera he wasn't as cramped as he would have been if he were human. Just then he heard a gurgling gasp, and then he inched forward to peer through the bars to see what had happened, and in that instant he watched as the sorceress ate something, and blood running down her chin. The other laid dead in crumpled heap. As she neared he scooted back to where he was most comfortable, and he watched as she kneeled down and spoke to him. Want him to go with her? Valish had nowhere else, he watched as she stuck her hand into the cage and he studied it, and leaned forward to sniff the blood that was still moist on her fingers. Human blood wasn't so much his thing, and he was often fed mice, rabbits, squirrels, and other land animals that could be found. Moving just a bit more forward he stuck his tongue out to taste a little, then he looked at her in silence before he opened his mouth. "...I am yours?" all he knew was to be owned, and not much of anything else, so if she was his new master, then he would go with her.
It amazed Kesira that he was even able to speak, she didn't know much about him, only that Luhmen boasted at how he had created a magnificent being that was no longer fully human. With her tongue against one of her fangs the dark vixen watched him carefully as he licked at the blood. Upon hearing his question an amused look formed upon her features "Oh my precious gem, your previous master is no more. I have taken his life source and that means you are now mine" a sinister smile tugged at her lips, her eyes flickered with a darkened undertone. Withdrawing her hand from the cage, a flash of violet glowed within her eyes as she waved her hand over the lock, the metal disintegrating in seconds as the door was pulled open. Slowly straightening her form, she looked down to the creature "Come to me, so that I may take in your scent, energy and all" she needed to see what she had before her in more than just a physical appearance which at the moment he was quite delectable in her eyes "Come to your Mistress, my pet" she ordered while holding her hand out to him.
Upon hearing how his master was no longer around, he did feel some sense of elation, but he also wondered if his new owner would have a purpose for him. Watching her dissolve the lock made him realize that he was going to have a new life, and maybe it was going to be better than being locked away. As she spoke of wanting to take in his scent, it left him feeling skeptical about her, but what was her aim? Valish moved forward, and climbed out of the cage and stood before her only wearing loin cloth. Here and there he would be allowed out of his cage, but most of the time he was kept locked away, and he didn't really know exactly why, but it felt good to be out of it. Standing there he popped his neck, and stretched out his arms, and popped his shoulders and ribs. Looking to the sorceresses hand he approached with caution, he looked like he ate, but he was a tall and slender young man, his skin was more of a pale color with a faint tint to it, and his hair was blonde, but also a pale tone. He had dark green scales around his eyes, and in patches all over his body creating a pattern, he had scaling down his spine, and at his elbows. Moving forward, the chimera reached out to take hold of her hand, and walked
Once her new pet was out of the cage and standing tall, her eyes scanned over his form in its entirety. "It's a shame that Luhmen kept you locked up" when he took her hand the beauty leaned in to get a very good look at his eyes. They were ever so stunning, that brilliantly beautiful shade, it almost made her feel envious. "Oh my sweet" her voice no more than a hushed whisper, her soft lips close enough to brush against his flesh "You are ever so unique" reaching her free hand up her claws trailed against his cheek just enough to graze but not harm "I believe you've instantly become a treasure of mine" without a warning her lips pressed to his in a kiss. It was only momentary for she parted within seconds "So delicious" she cooed, her tongue running across her lips "So.. does my pet have a name? or should I give you one?" lacing their fingers together, Kesira led the way out of the deceased sorcerer's home. "Even if you do hold a name, what would you like to me to call you? though I do much enjoy 'pet' or 'gem' perhaps something better once we get more acquainted" once outside, there was a flash of violet within her eyes as the two were engulfed in smoke and transported outside of a massive dreary cobble stone castle "Welcome, my pet, do your new home, come along, my sweet. Let's get you out of that and into something more … tasteful"
Last edited by Kurisu on Sun May 18, 2014 3:27 am; edited 1 time in total
There were many questions that ran in Valish's head, but he didn't know if they were good questions, or if there would be an answer to them. For being locked up so long he did not really know much about what was outside, and he didn't know much of about anything since Luhmen didn't really allow him to read anything. Valish was caught off guard by her kiss, and though it was quick it did leave a lasting mark which he tasted with his lips. He wasn't sure what was going to happen to him, and she seemed to be showing him kindness--well her way in being kind to him--by freeing him. "My name..." the hybrid spoke as he listened to her speak of how she would enjoy calling him 'pet' or 'gem' and it came as almost a realization that he was going to a new home...what did it mean for him? "My name is Valish...and I am yours" was all he knew, and here he'd have a new owner who would hopefully take care of him. What was he to do for her? Or how was he to benefit her in anything? As the both of them were transported to another area, he looked on at the castle, and then looked towards Kesira "...tasteful..." he was also hungered, and in need of some food. The food that would be given to him were mice, and other small animals that he was given alive to be eaten. It was all he knew, he didn't eat anything that was cooked, and he needed something to eat. "Hungry..." he held his stomach as it growled.

So he had a name, why did that surprise her? "Valish…" her tested the name on her tongue and quite liked how it felt "I like it, but I will alternate of course, my dear" Just as she was about to step forward she heard his final remark "Did Luhmen not feed you well? … oh that man was a such a brute.. come along, Valish" Leading up the cobblestone walkway and into the castle. In that instant  Two figures approached them. Both males, both with similar appearances of a bronze type complexion, masculine build, crimson red eyes and the whitest of hair. Both dressed in tuxedos but held one distinct difference. The collars they wore around their necks, one blue, one red.  "Mistress" their deep voices boomed in unison, but only one of the two fell to his knees, the red collared one. "Very good, my boys" Kesira's fingers reached down to comb through his hair as her gaze lifted to the one still standing "Prepare a room near my private quarters. We have a new addition to our family" a smirk was definite upon her lips "Of course, as you wish" the one still standing gave a bow and took off "with haste" her voice ordered and he took off in a sprint up the stairs. "Come Valish, to the dining hall"  with that she pulled from her collared pet and led the way. "Troy, have the chef make a variety, we'll be waiting and I expect my favorite of drink  served" the red collared man shot to his feet "Yes, Mistress" with that he headed off. "Oh my dear Valish, tell me, what was life like with Luhmen? how did he treat you? what did he feed you?" Kesira didn't look to him as she walked. It wasn't long until they reached the rather lavish dining hall, and just as she expected in a crystalline wine glass was blood, freshly served for the 'steam' could be seen rising from it. "Have a seat" she spoke to Valish "After you eat, we'll get you washed up and dressed, yes?" finally her gaze turned to him before walking to take a seat at the table.
The young male walked along side his new owner, and he looked around the castle, and took note of the two males that presented themselves. New family member? The meaning of family was lost to this one, because he really had none, knew off, or understood what it was all about and what it really meant. As Kesira spoke to him to follow her to the dining hall, he could feel his stomach growling, but he had known what it was to be hungry so long it really just felt like a normal annoyance. "Luhmen..." when she spoke of the man who kept him locked away for so long. "He wouldn't let me outside..." Valish seemed to be the calm and not the talkative type, he was calm, but it didn't mean he wasn't possibly dangerous. As they walked into the hall, he couldn't help but admire the look and feel of it until he was told to have a seat. The male walked over to the chair and looked at it blankly, then he sat down in it, and looked at the table, it seemed he hadn't sat in a chair for the longest time. "Luhmen...never let me sit..." he seemed numb as he spoke, as if he held no emotion towards what happened to him, but that was mainly because he lost majority of his human side--his human side was still there. He watched as his plate was served before him, and he inhaled the delicious scent before reaching forward with his fingers and eating by hand. It seemed he did not learn to use a utensil.
This 'experiment'  of Luhmen's intrigued the venomous beauty greatly. She sat there just listening to him speak, occasionally taking a drink of the crimson liquid in her crystalline glass, but all in all her silver hues remained focused upon the abomination beside her. "You truly are numb to everything that's happened to you, aren't you my sweet?" a smirk formed upon her lips. "Oh that just makes you even more precious" her voice giving a hiss at the end of her statement, but it wasn't ill intended of course. As the food was served, the woman didn't touch her food and  shooed her plate away. She'd recently feasted on a heart which contained inhuman qualities, she wouldn't be needing to feed for at least a day or two now. For now? Her focus was upon her new pet, a hint of intrigue was definite, for a split second the pupils of her eyes narrowed into vertical slits much like a serpent but with a more 'sinister' meaning behind that. "At this table, my pet, we use utensils. I'm sure that brute of a former master showed you no table manners. But worry now, my sweet." A claw hand reached out brush against his cheek as her smirk formed into a 'fangy' grin "You'll learn much here" her claws grazed his pale flesh "This is your new beginning, Valish"

With his cheeks full of food he didn't really pay that much attention to his mistress as he continued to down the food and swallow each bite with ease. As he started to lick his plate he heard her speak to him about the use of utensils, and how he could learn. Though he did hear her speak before about how he felt, but she seemed to be fascinated by him as a 'thing' and not what he was. Valish looked to her in silence as she brushed his cheek and started to suck the remaining food off his fingers, then looked around the room to take in the whole scene. So this was going to be his new home, what was his purpose?" "Are you going to cage me?" he asked almost as if he wanted to, but it wasn't so--since he was curious about her intentions of taking him in. "I'll behave...I was put there if I didn't...Luhmen said I was a mistake" he then looked down at the table in silence. "What am I to you?" it seemed that was becoming more aware of what has happened, but after being caged up for years he didn't know much of anything. Though it may seem awkward he didn't seem at all too phased by her feeling up on him, and if she were to sink her teeth into him, he'd probably not be too bothered by it"

Hearing his question, Kesira raised a slim brow "Cage you? Oh my dear that's preposterous. I would do no such thing" granted the necromancer did have cages yes, but they were for her more 'animalistic' pets and those were down in the dungeons of the massive castle. Pets that no longer had the mental capacity of a human and were mainly used for the hunt of precious meats and other sorts to keep her family fed and well. "You are not a mistake, Valish" she assured him but when his question reached her ears oh the beauty couldn't hide it. Her eyes flickered with a darkened undertone "What are you to me, that has not yet been decided. You'll rest near my chambers, but you will have to prove your worth to me before I can truly decide on what good you will be to me and my .." she trailed off, her tongue running across her fangs in thought "comforts and desires" Kesira finally finished her statement with a well enough answer. The food had been finished and the woman arose to her feet "Come" she extended her hand to him. Oh how curious the woman was about her new pet, her eyes trailed to the veins in his neck, she wanted a taste, but he didn't deserve such 'intimate' gestures, not yet at least. "my boys will lead you to bathe and wash up, afterward you will be provided with clothing and escorted to my chambers. We have much to sort out and discuss" with that she led the way out of the dining hall where one of the suited men approached. Kesira didn't even need to speak a word and rounded him as she ventured off, the suited man knowing what had to be done and leading Valish to wash up then leading him to his room, instructing that Lady Kesira's chamber was the one with the large cherry oak doors lined in gold.
To Valish her words rang hard and clear into her ears of proving his worth, and it seemed that he had to somehow compete with the others for the top spot. Perhaps there was something he could do about if it he felt that he had a higher purpose, and he wanted to be useful, and he owed that to his new mistress. As she beckoned for him to follow her--he did so without slight hesitation and more anticipation to what lied ahead during his stay in this manor. Reaching out for her hand, the hybrid took hold and walked with her as they walked out of the hall to where they were greeted by her other pets. The man had nodded to his mistress and took to leading Valish towards the bathing chamber where the tub was already set for him  and the man had waited outside the door allowing time for the hybrid to bathe and dress himself. Valish removed all that he was wearing and climbed into the tub where the warm water began to warm his blood, he didn't quite sit yet since it wasn't a bath he was use to. Getting water thrown on him was all he knew, and he sat down and closed his eyes as he took in more of the warmth, and even sunk further in until he was submerged under water. It had been awhile that he was there, and the sound of the door opening echoed as the suited man would walk in with slight concern. Valish surfaced and looked at the man slightly confused by his expression--no words were exchanged, but Valish climbed out of the tub and the man had turned to leave when he glanced back and noticed Valish walking over to his clothing. The hybrid had more....much more..more than the others...It wasn't long till Valish was taken to his room where he was then told where his mistresses chambers were, and he took the time to explore his room. The bed was soft, but he was so use to being in a cage he actually missed being contorted, he looked around and saw a trunk. Opening the trunk he climbed into it and curled up finding a comfortable position and stayed that way for awhile, but he just couldn't sleep, and felt bored.

The night was long; there was not much really to do. Perhaps that was why Kesira had taken Luhmen up on his offer, her life had become stale and her pets were doing nothing to alleviate her from such boredom. The necromancer sat upon her bed, her silver hues peering out the window to gaze upon the moon. Not even the 'warm' sensation of a pair of lips against her neck; hands roaming upon her half-nude form were enough to pull her from her daze. However, a sigh soon brought the porcelain-toned beauty from her thoughts to focus upon one of her favored pets. "Mistress… am I not doing well?" his lips brushed against her hand that rested upon her lap. "No, you're not, each and every one of you are completely predictable… its grown stale, my dear" nudging him away, kicking him with the heel of her boot, Kesira was on her feet, shrugging her robe on and tying it tight against her frame. "Leave my presence" the male's eyes widened "B-but Mistress you ne-" her eyes narrowed "Are you disobeying orders?" he spoke not another word and walked around her exiting the room. Once alone, Kesira gave a heavy sigh, where on earth was Valish? She honestly figured the man would have come to her chambers by now. Making her way down the hall and to her left, she opened the door and peered in. The room was, empty? Slowly Kesira arched her right brow and stepped in. "Valish?" she had picked up on his scent upon opening the door so she knew he had to have been there. After a bit of searching her eyes fell upon the trunk. Why on earth would he be in a box? Moving to the box she opened it fully and peered down to the contorted man "A box, my sweet? Truly?" well this was indeed new. "Come on out of there, I'd expected you to show up in my room but … you're here. I don't blame you though, just don't make a habit of it, alright?" she stepped away and waited for him.

For awhile Valish laid there and almost drifted to sleep, but he wanted to get up, but he also enjoyed the feeling of being in the position. Perhaps there was an anxiety if he didn't feel that after so long of having it, but it was when he heard the door open he could sense a being in the room. It wasn't until he heard the voice that he knew who it was and yet he just didn't feel compelled to move, and his body shifted, but he gave in to the comfort even when she opened the lid. The hybrid seemed to be feeling somewhat depressed, but he didn't know why since he was practically free from his constraints, but he was starting to miss it. Looking up at her he sat up and almost slithered out of the trunk and stood up to look at her "...Yes..." Valish looked at the box, then over to his mistress "Can I rest there? when I need to?" if he could at least be there when he needed it, then perhaps it would make him feel less uneasy. The hybrid's hair was still somewhat damp, but it was drying and strands clung to his forehead, cheek, and nape of his neck. "I'm sorry..." he had to learn to not ask questions, because he was given an opportunity to be here--she could have easily killed him, or left him to die if she didn't find him interesting. Though there was something he did forget and it was to zip up his pants, and he wasn't wearing any underwear under neath, the shirt he had on was unbuttoned. It seemed that he just didn't know what to do with them other than to put them other than to put them on, but he seemed comfortable.
It had been almost a full month since Kesira had taken Valish into her dark and dreary home. During that week her other 'pets' had given him the rundown of how things worked and what could and could not be done. But Kesira herself merely sat back and observed, more times than not she ventured down to the dungeons for a training session with her hunters. This particular evening, Kesira had just finished with her bath and stood within her room, a robe of silk sticking her drenched body, hugging every curve quite graciously as she peered out to the window with her moonlight kissed hazel hues. A pair of strong arms wrapped around her form from behind as bold kisses trailed along the back of her neck. "Troy, bring me Valish" was all the beauty with the porcelain complexion said. Upon hearing the order, the man gulped "But Mistress tonight is m-" "Are you defying my orders?" she glanced over her shoulder, her piercing hazel hues narrowing into a glare. "No, Mistress, of course not" he backed away as she turned around "Bring him to me" her voice in a hiss at this point which caused the man to bow before racing for the door. Kesira admitted from time to time, she had no patience for those who disobeyed. With a snap of her fingers the man's body froze, his eyes widening upon realizing that he was surrounded by smog like walls "M-Mistress! I am sorry for even --" he wasn't able to finish his apology for he's lost consciousness. Kesira could feel her blood racing with anger, with a wave of her hand the door flung itself open "Xen, Valish, in my room this instant!" her voice roared from her chest with such rage. "Xen I want Troy out of here, NOW!" her voice continued with the same tone once both of those that she'd called for were in the room. Kesira could feel her blood racing through her body; she'd been quite worked up into a muscle tensing frenzy to the point her breathing was no less than a labored pant. It seemed ever since she'd brought Valish into her home, her pets were defying her orders more and more when it came time to sharing her and that angered her quite a bit. Kesira merely glanced toward Valish once Troy was taken away but didn't speak a word, instead she turned and headed back to the window, peering out at the moon in silence, with a flash of her eyes the door slammed shut and locked. "Come, Valish" was all she said, her tongue not 'as' angered as it was mere moments ago, the beauty was in a sense forcing herself to calm.

The time spent at the manor seemed to be enough for Valish to learn what he needed to learn, and he did learn quick despite seeming to still keep to himself. The other males were always on edge, but he didn't feel that way since whenever he was called he was quick to go without hesitation. This particular night was like other nights where the others would vie for attention from Kesira, and there had been jealous coursing through the compound and Valish usually got the brunt of it. They weren't allowed to harm him, but it didn't mean they couldn't look at him with dislike and say things about him; although those things didn't seem to phase the hybrid. Upon hearing his name called to his Mistress's chambers he hurried down the hall and spotted the other male that was called, and the two entered where they saw the body of the other laying unconcious on the floor. Not a word was said until Troy was pulled out of the room and Valish remained alone by the door that closed on it's own, he made his way up towards Kesira not sure what was on her agenda, but he was there to sure. "Yes Mistress Kesira?" he approached and stood before her ready for whatever it was that she wanted.

Hearing Valish's voice, Kesira's eyes slowly closed as she drew in a breath from her nostrils and picked up his scent. "Oh Valish.." her tone growing calmer by the moment. Was it wrong that she seemed to favor this hybrid? Yes she had a tendency to hold favorites, but never to just one soul. "It's so hard to get get good help these night.. I've often been sleeping alone" perhaps it was because she wanted Valish but felt he was not ready. But now? Perhaps it was her anger, her blood that raced through her veins at a rapid pace. Or merely the realization that having him near, in a sense calmed her thrashing heart. Turning around Kesira's dazzling chrome hues gave off a gentle glow as she smirked toward him, her hands loosening the tie on her robe. "Come to me, my Sweet" her voice taking on a more alluring tone. The silken robe sliding off her shoulders a bit at a time, revealing more and more of her creamy porcelain flesh until the smooth fabric lay at her feet, her beautifully nude form exposed before him as she extended a hand out to him "You've earned, tonight" a smirk curled upon her lips, a hungered look in her eyes.

What was it that the mistress wanted? Valish watched her in silence as she turned to face him, her body was nearly exposed until she let her silk robe slowly fall off her body. Valish did not have an intimate night with Kesira for the time spent here, and the only thing that was done were her holding him close, biting, and that was mainly it since he had the tendency to tense up. It was that he wasn't use to a woman's touch, but the time spent with her left him feeling aroused-a feeling he hadn't really paid attention to during his time spent locked up. There weren't women, and he didn't know what it was for them to be beautiful, but just seeing Kesira's body completely exposed, he had the urge to get close and to feel. Slowly he moved closer when she beckoned him to go to her, he saw her smirk and heard her words of 'earning'. Valish took hold of her hand and stepped, then he lifted his other hand to reach up and touch her soft breast. It was very smooth and soft, his fingers trailed over the nipple and he had the strong instinct to taste them. Furthermore his loins were starting to grow warm, and his pants getting snug in the front. It was something he was starting to understand more about his body, in reation he reached down and gripped his manhood through his pants, but if Kesira looked down she would notice that he was holding one of them.

Kesira didn't move, not even an inch, instead she watched her pet wanting to see what he'd do. Never once had he touched her in such a manner, for when he tried she'd command that he stopped. At this moment? The hybrid had free reign on what he wished to do. His soft touch caused a rather pleased look to cross over her facial features "Oh, my dear Valish" her eyes were fixated upon his before taking in his form yet as her gaze traveled lower she realized he was gripping himself which caused a faint tug at the corner of her lips. Upon further study, Kesira's eyes widened just a tad "Oh my word…" the beauty breathed the beauty breathed "… have you always… " she couldn't find her words to finish. Were they truly real or was her hunger for such affection playing with her mind? With her free hand, Kesira reached down and pushed aside his hand. Not even with a hint of courtesy, her hand slipped down between the barrier that his pants had formed. "Oh .. oh my Valish .. this.." never in her life had Kesira ever had a pet with this abnormality before. "Are they both fully functional?" there was a spark of curiousness as her head tilted to the side. The hand that had been feeling up on both appendages slipped out "remove your clothing, my Sweet" her lips curling into a smirk "Let me get a full look at you" she cooed.
It seemed that he didn't want to get too touchy with the mistress, but he couldn't resist the urge as she was indeed a very beautiful woman, and there was something he had longed for, but he wasn't quite sure what it was. Valish was about to lean in to taste her flesh when he heard her reaction to what was blow his waist, and he wasn't sure why it was a problem. Then again he realized that he was different from the other males when they would be seen nude, and it wasn't long till some of them found out about him after the one had seen him. Still they didn't dare say a word to Kesira and for good reason as it would get them in trouble for 'tattling'. When she pushed his hand away and stuck her hands down to feel he was a bit surprised by the abruptness of it, but he had never been touched by anyone else down there so it felt pleasurable. It seems that she was quite interested in what he had, and he listened to her question about them being functional, and he wasn't sure how to reply. Then came the command for him to remove his clothes and he did so by removing his shirt first, then tossing it aside and undoing his pants and letting them fall to expose his two manhoods. They both worked as they were both aroused by her touches, and he stood there staring at her, and studying her for her reaction. "I was born this way..." came his words as they were always there, and he thought they were normal.

Once he was out of his clothing, Kesira's eyes studied him from top to bottom, circling him like a predator would it's prey. "Oh my Sweet" her voice in a sultry whisper as she wrapped her arms around him from behind, pressing her body against him as her hands roamed along his sides. Her lips kissing the back of his neck, her fangs grazing along his flesh "You are.." her tongue snaked its way up to ear "absolutely scrumptious, my pet" her tongue flicked against his earlobe, nipping at it teasingly. Kesira's fingers dipped lowered and both her hands took a hold of his hardened appendages as she began to stroke along their length slowly. "You have a unique gift, my pet" her grip tightened only a moment before she pulled away from him completely, rounding to until she was standing before him. "Luhmen did well, merging your d.n.a with that of another species. You truly are gorgeous, my Sweet" reaching out a clawed hand she cupped his chin and pulled in close, her tongue trailing along his lips, moving closer to kiss those lips with such intensity, her hands once more finding his rare talents and began to stroke them once more. Abruptly parting the kiss her lips trailed down his jawline, to his neck, her fangs grazing as they traveled lower and lower. Yet when she reached his arousal, the beauty sat back and admired them "you my sweet" her eyes lifted to meet his from her kneeling position "have earned your place" leaning her tongue ran along the underside of each length, planting a kiss upon each head before arising to her feet. Stepping back toward her bed she moved to lay back against the pillows "come to me, Valish. I am yours for tonight" she smirked.

Once his body was fully exposed he could see the way she studied him and even circled him to get a better view of his body. Valish was a tall and slender man with a nice build, and by the looks of things it seemed that he was the package to make Kesira happy. Just listening to her approving tones and feeling her tongue against his ear lobe caused an almost quiet sigh to escape as he tilted his neck to expose more for her, and he could feel himself getting harder by the minute. Was his mistress pleased? Valish was certain she was happy with him, and it confirmed it when she wrapped her hands around them stroking them both, and he felt like he could melt right there. Just hearing her voice was making him ache for more of her attention, and as soon as she stopped and moved around him he opened his half closed eyes and stared at her. Valish didn't wish to speak because he did not want to ruin it or risk ruining the moment, but he didn't have to since his body was doing all the talking. Their lips met in a ferocious way and they kissed for awhile longer as her hands began to work him until they both were hard and ready. Was he really going to be her favorite? Valish groaned when she moved down and started to please him further with her tongue, then he closed his eyes as he felt the kisses but opened them as soon as she spoke of him earning his place. "....Th-thank you...Mistress Kesira..." he watched as she moved over to her bed, and he listened to her words. She wanted him, and he wanted her, and deep down it made him realize that he was going to be her prized possession. The would mean the others would be jealous of him and it almost left him feeling very giddy inside, and he was going to enjoy it. Making his way over to the bed he climbed and crawled up to her, and leaned in to kiss her while sliding his hand over her body. This was his night and he planned on making it one of her best.

Kesira's eyes followed the man as he neared her new prized possession. He held the 'tools' but the question was, did he know how to use them? Oh this hybrid intrigued her greatly. As soon as his lips touched her own, Kesira leaned in to deepen the kiss with an ravenous hunger. Her clawed fingers reached up to brush against his scales before running through his hair to the back where she raveled her hands into his hair and gripped a handful pulling him from her lips as she made direct eye contact, her breath a pant at this point. Yes, Kesira had been sexual in the past, but there was always something about a new 'partner' that brought the slightest hint of uncertain and this was the exact moment that it showed itself as that unsure sense could be read in her eyes. Was it just because of Valish's 'gift' that she was allowing this? Or had he truly proved himself worthy? The beauty's thirst for such affection was winning the battle and as quickly as that uncertainty had showed up it was gone and once again a smirk touched Kesira's lips. With a firmer tug on his hair, Kesira leaned and nipped at his exposed neck with her fangs, without warning digging them deep into his neck. A moan rumbled in her throat at the taste of his blood. In all the time she had him here, Kesira had never tasted his blood, not once. Oh how she loved the taste. After a few moments, she parted from his neck lapping at the marks before meeting his gaze once more. Pulling one hand from his hair, the beauty created a fine unnoticeable incision over her left breast, it took a few seconds but soon her blood could be seen coming to the surface "Drink" her voice a breath of a whisper.

---
Permissions in this forum:
You
cannot
reply to topics in this forum